File photo of frantic Kurdish refugees struggling for a loaf of bread during a humanitarian aid distribution for hundreds of thousands of stranded Iraqi-Kurds in the mountains of Isikveren at the Iraqi-Turkish border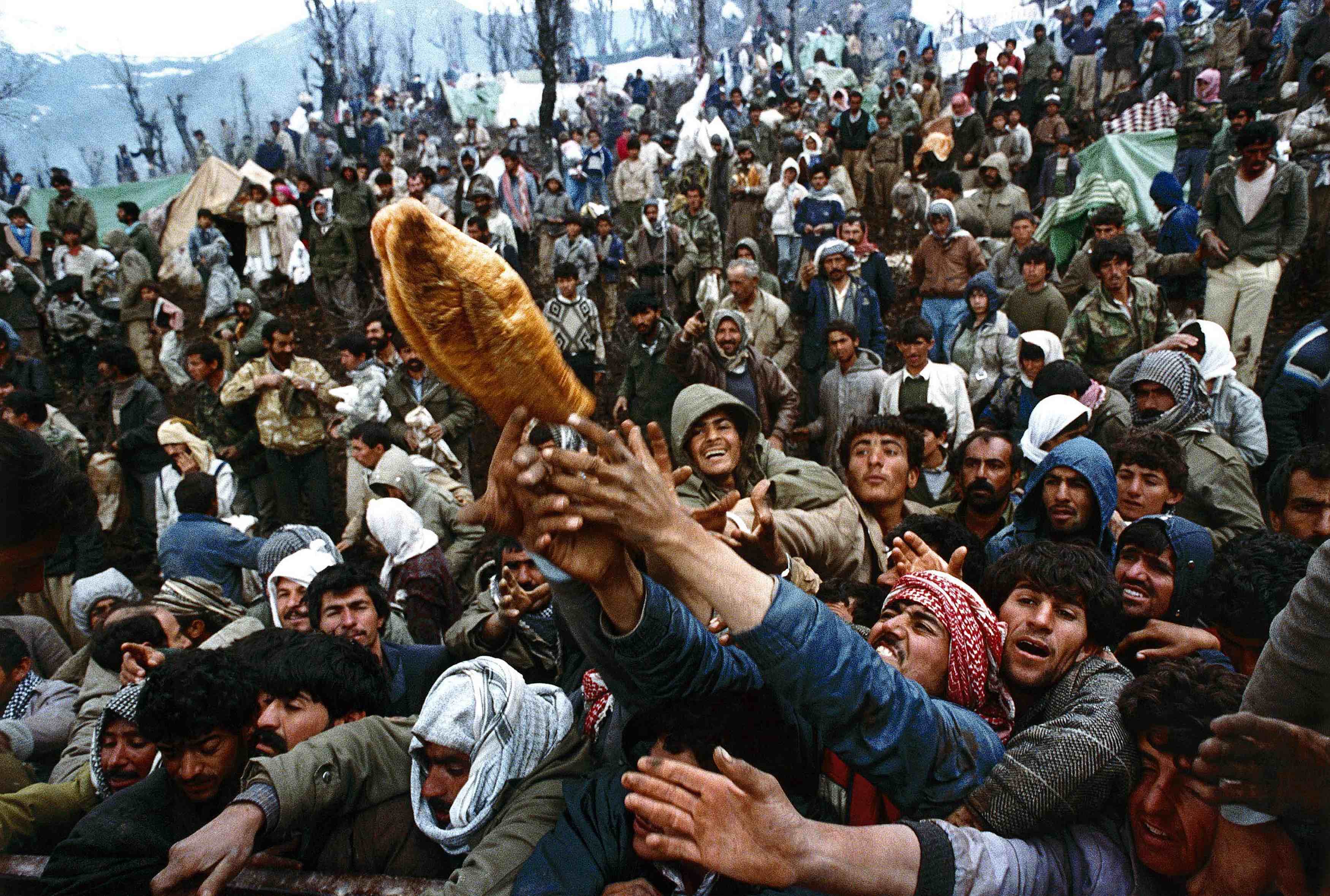 Frantic Kurdish refugees struggle for a loaf of bread during a humanitarian aid distribution at the Iraqi-Turkish border in this April 5, 1992 file photo.
Yannis Behrakis: At the end of the first Iraq war about 1.5 million Kurds were fleeing in panic trying to escape from forces loyal to Saddam Hussein. About 600,000 of them fled to Turkey but half of them were stranded in the mountains at the Iraqi-Turkish border.
I hitch-hiked a ride on a tractor pulling a cart full of bread to feed the stranded Kurdish refugees atop the snow capped mountains at the border.
As the tractor made its way slowly through the dangerous dirt road, it was attacked by hundreds of hungry refugees who fought against each other and the aid workers. The men I was riding with tried in vain to stop the refugees from taking the bread but the refugees were absolutely desperate and the aid workers gave up.
Getting up the mountain to cover the story was extremely difficult. I remember leaving the hotel every morning at 4 am in order to reach the bottom of the mountain two-and-a-half hours later. Then I hitchhiked my way on either a tractor carrying bread or on a snow-removal vehicle clearing the road. Once, my hands were so cold they stuck to the snow-removing vehicle.
Pictures like this put pressure on the Turkish government to allow proper humanitarian aid to reach the refugees. It also alerted the international community about the tragic events in this part of the world and received very good play in what was the biggest story in the world at the time.
It was the first time I was covering a humanitarian crisis and I was stunned with the cruelty some people demonstrated towards unprotected humans. I also understood that photojournalism is a very strong medium that can make a difference and help people in need. REUTERS/Yannis Behrakis/Files (TURKEY – Tags: SOCIETY TPX IMAGES OF THE DAY CONFLICT)
TO FIND ALL 56 IMAGES SEARCH '30 YEARS'