File photo of Nagai of APF trying to take photographs as he lies injured after police and military officials fired upon and then charged at protesters in Yangon's city centre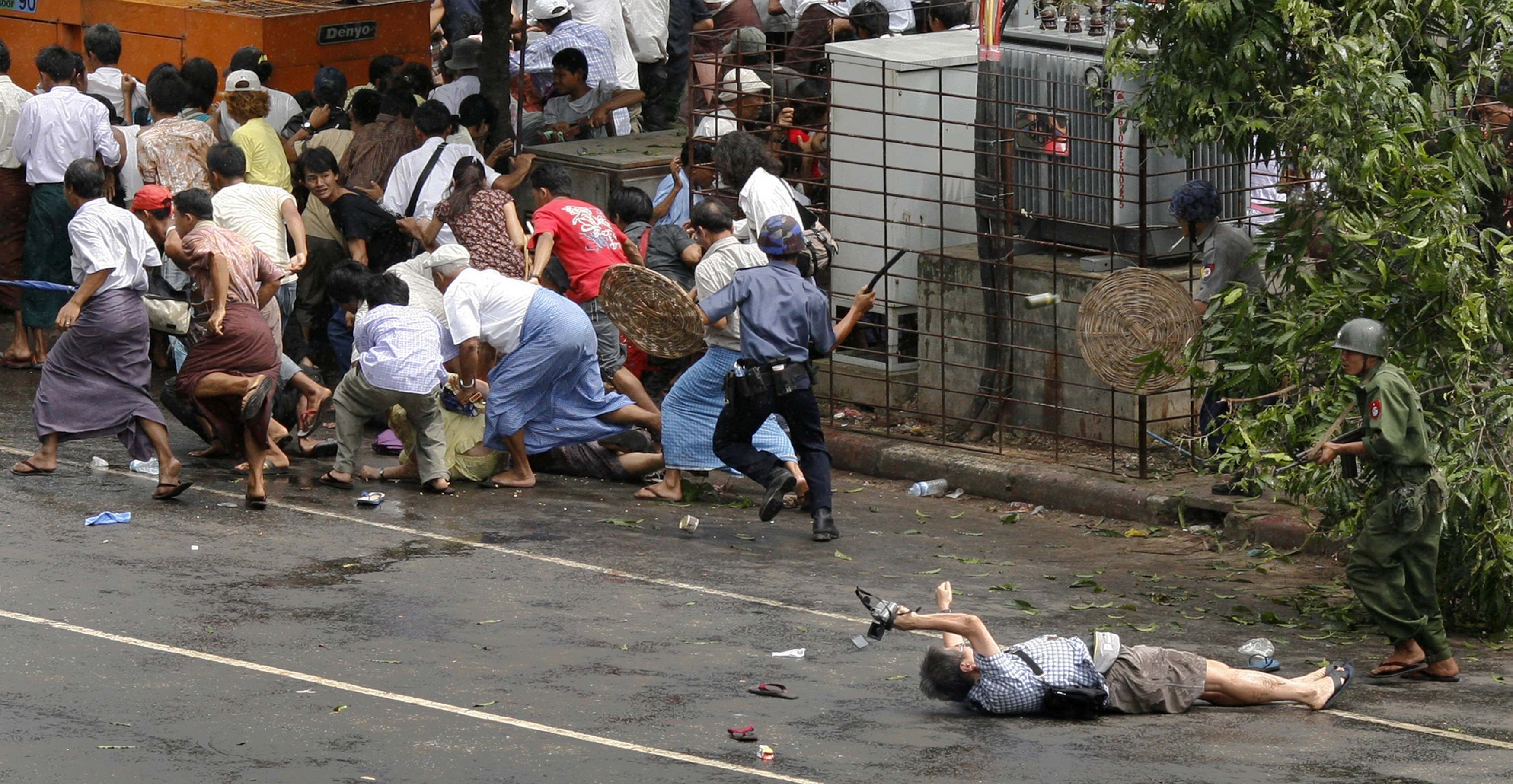 Kenji Nagai of APF lies dying after police and military officials fired on him in Yangon in this September 27, 2007 file photo.
Adrees Latif: I was covering the «Saffron Revolution» in Myanmar where rising fuel prices ignited protests. After weeks of protests mostly led by monks, security forces raided monasteries and arrested monks in an effort to quell the demonstrations. On Sept. 27, tens of thousands of protesters took to the center of Yangon, near the Sule Pagoda. Armed military forces arrived to the scene and dispersed the crowd with smoke bombs and machine guns. Seconds after the military opened fire on the crowd, I saw a man falling to the ground and turned my camera to his direction to photograph. I would later learn it was Japanese video journalist Kenji Nagai working amidst the protesters.
On this particular morning, the military had set up roadblocks and there was an eerie silence in the air. The streets were empty and I found refuge in a monastery for novice monks. Before midday, I made my way by foot to the city center. As I arrived, some dozens of protesters were shouting slogans. With every passing minute, their numbers multiplied.
I took position on a pedestrian bridge. From atop I could see dozens of military vehicles approaching. The soldiers opened fire soon after their arrival. While photographing, I took refuge amidst a bridge full of protesters lying flat to avoid being shot. Soon after I felt a strong urge to preserve the images I had made and found a way off the bridge.
Over the years, I read of previous crackdowns by the junta on protesters but never saw photographic proof from reliable or unbiased sources. This image provided a rare public glimpse of the raw brutality of one of the world's most secretive regimes. REUTERS/Adrees Latif/Files (MYANMAR) – (POLITICS CIVIL UNREST TPX IMAGES OF THE DAY)
ATTENTION EDITORS – THIS PICTURE IS PART OF PACKAGE '30 YEARS OF REUTERS PICTURES'
TO FIND ALL 56 IMAGES SEARCH '30 YEARS'