Los 100 mejores artículos sobre periodismo de 2017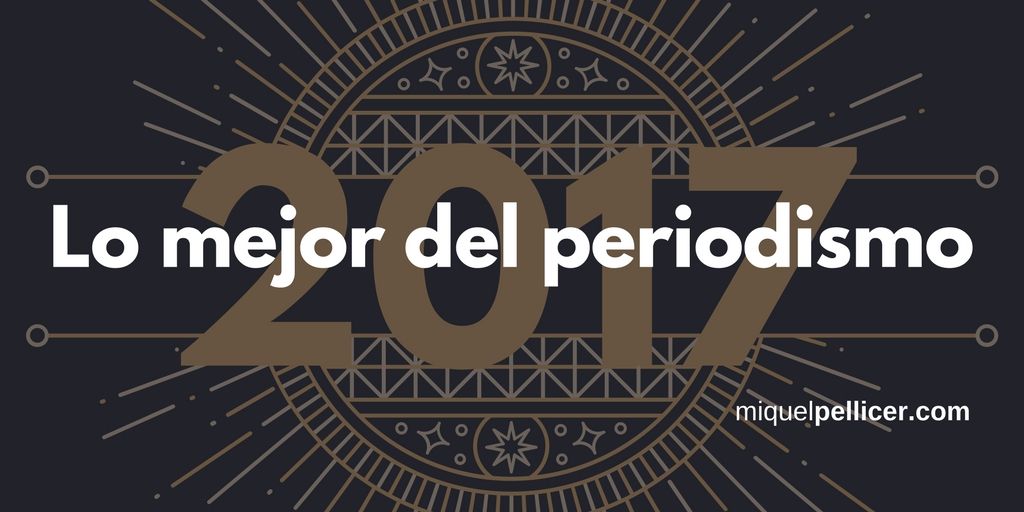 Este es el resumen de los últimos 365 días en el ámbito del periodismo. Los 100 mejores artículos sobre periodismo de 2017 es un recopilatorio para que disfrutes. Esta serie recopilatoria empezó con el resumen de 2015 y posteriormente de 2016. Este es el tercer artículo que realizo para resumir lo mejor de cada año.
Los artículos seleccionados están en castellano e inglés y muestran una amplia concentración de ideas sobre el periodismo, las redes sociales y el marketing de contenidos:
1. How The Washington Post is using newsletters and alerts to reach readers | Poynter
2. La gripe de los medios en las redes sociales | bez.es
3. The rise of the citizen journalist | Muck Rack
4. We broke the Panama Papers story. Here's how to investigate Donald Trump | The Guardian
5. ¿Cuánto cobran los 'influencers' por sus redes sociales? | La Vanguardia
6. Live From the White House, It's Trump TV | The New York Times
7. ¿Están asumiendo ya los medios que no podrán vivir sólo de la publicidad? | El Post Blanco
8. Local news: a survival guide for digital transformation | Global Editors Network
9. Los medios ante la transformación programática | Evoca
10. Hay algo peor que el poder de los medios | El Universal
11. Vivendi chief sees future in 'horizontal' convergence | Digital TV Europe
12. The Secret History of a Fleeting Pre-Internet Digital Media Channel | Motherboard
13. Contra la posverdad: 10 fórmulas para hacer frente a las noticias falsas | PDLI
14. Platforms and publishers: No sign of retreat | Columbia Journalism Review
15. Reed Hastings y la televisión según Netflix | Next Media
16. Premios SND: Best of Digital 2016 | MiquelPellicer.com
17. Así cubre el New York Times la era Trump | Trump Land Media
18. Grupos y medios de comunicación en España en 2017 | Enrique Bullido
19. La revolución de los raritos | Carmela Ríos
20. In Defense of Interactive Graphics | Vis4net
21. «Post-truth is pre-fascism»: a Holocaust historian on the Trump era | Vox
22. Los labs de medios en España: la innovación desde el área de la organización periodística | Cuadernos de Periodistas
23. Tap to advance: the rise and rise of the horizontal story | Online Journalism Blog
24. Ingagement: en busca del engagement interno | Cristina Aced
25. The Future of Free Speech, Trolls, Anonymity and Fake News Online | Pew Research Institute
26. Una stripper, 13 pavos y un extraño gato muerto | El Independiente
27. 'Who shared it?': How Americans decide what news to trust on social media | American Press Insititute
28. Los nuevos proyectos guerrilleros en el periodismo digital | El Mundo
29. What AJ+ Is Learning About News Bots | Mediashift
30. This is how The New York Times is using bots to create more one-to-one experiences with readers | Nieman Lab
31. ¿Cómo comunica Donald Trump? | Xavier Peytibi
32. The current move to subscription models is a revolutionary shift for journalism | Poynter
33. La investigación de Rolling Stone: 'Un fracaso que era evitable' | Ojo Público
34. Lecciones de periodismo que dejó Miguel Ángel Bastenier en 140 caracteres | Verne
35. New York Times y los Papeles de Panamá, Pulitzer 2017 | MiquelPellicer.com
36. Los medios que han ganado más premios Pulitzer | Ismael Nafría
37. Las 7 ideas para salvar al periodismo que propone Carlos Guyot, director de Next Idea Lab | Puro Periodismo
38. Periódicos como pistolas, palabras como balas | eldiario.es
39. The slow and steady rise of AI for news | Global Editors Network
40. Los retos del periodismo móvil | Next Media
41. The New York Times now has 13 million subscriptions to 50 email newsletters | Digiday
42. Lo que he aprendido sobre bots, chatbots y canales en Telegram | Planeta Chatbot
43. Las nuevas tácticas de las redacciones para conectarse con las audiencias | IJnet
44. La pregunta de Gideon Lichfield de Quartz para pensar en la audiencia: "¿Por qué carajo alguien leería esto?" | Puro Periodismo
45. La impunidad contra los periodistas toca techo | Univisión Noticias
46. WhatsApp Has A Viral Rumor Problem With Real Consequences | BuzzFeed News
47. Searching For Syria | UNHCR – ACNUR
48. The Players' Tribune y la exigencia para el periodismo deportivo de replantear su relación con las fuentes | Periodismo Deportivo de Calidad
49. Katharine Viner: Son vitales los medios que valoran la calidad en vez de la viralidad | APM
50. Al-Jazeera: the Qatar broadcaster at centre of diplomatic crisis | The Guardian

51. Fake news: you ain't seen nothing yet | The Economist
52. ¿Cómo ayudará la tecnología Blockchain a promover la innovación dentro de los medios de comunicación? | The Cointelegraph
53. Cómo crear un equipo de periodismo de datos: consejos prácticos para unir programadores y periodistas | Knight Center for Journalism in Americas
54. Attitudes to paying for online news | Reuters Institute
55. Dos años de 5W: la consolidación de un modelo | 5W
56. The David Carr Generation | The Atlantic
57. What content triggers a subscription | Innovation
58. Troops, Trolls and Troublemakers: A Global Inventory of Organized Social Media Manipulation | University of Oxford
59. La notificación push como estrategia informativa de la radio en el entorno digital | El Profesional de la Información
60. Beyond cats and Kardashians: can journalism satisfy audiences without dumbing down? | The Conversation
61. Cuatro experiencias de crowdfunding para medios digitales en América Latina | IJnet
62. Informes 2017: tendencias, innovación y comunicación | MiquelPellicer.com
63. Media Trendala: 30 tendencias de futuro en los medios de comunicación | El Prodigioso Volcán
64. Reflexiones de comunicación sobre el atentado de Barcelona | MiquelPellicer.com
65. Beyond 800 words: new digital story formats for news | BBC News Lab
66. The 140-character president | Columbia Journalism Review
67. Does social media threaten the illusion of news neutrality? | Engadget
68. The World's Most Powerful Publishers Refuse to Admit What They Really Are | The Atlantic
69. How Diverse Are US Newsrooms? | Google Trends
70. ¿Cómo verificar en un mundo (digital) lleno de trampas? | 5W
71. News paywalls are bad for society, says BuzzFeed's Jonah Peretti | Fast Company
72. Los peligros de los gigantes tecnológicos | The New York Times
73. The Future of Journalism: Funnel Vision | The Economist
74. Journalism needs a new business model and it's based on trust | The Huffington Post
75. Eleven newsletters to subscribe to if you work in media | Columbia Journalism Review
76. Facebook, news publishers, and the 'demand' for video | Hackernoon
77. Frida Sofía o los peligros de la televisión en directo | The New York Times
79. The New TV | IAB
80. Las pautas de The New York Times sobre el uso de las redes sociales por parte de sus periodistas | Ismael Nafría
81. La newsletter es Alien: ¿Por qué este producto periodístico se adapta mejor que otros al nuevo ecosistema? | MIP-UMH
82. Inside the Financial Times' Instagram strategy | Digiday
83. Siete redes sociales a las que hay que prestar atención | El Tipómetro
84. How Facebook rewards polarizing political ads | The Verge
85. Big data meets Big Brother as China moves to rate its citizens | Wired
86. What Russian Journalists Uncovered About Russian Election Meddling | The Atlantic
87. El futuro del periodismo es cíborg | Cuadernos de Periodismo
88. Cuesta un mundo identificar los bulos en las noticias | Periodismo Emprendedor en Iberoamérica
89. The Washington Post Is A Software Company Now | Fast Company
90. Por qué los medios deberían elaborar más formatos gamificados: 10 casos de éxito | MIP-UMH
91. Periodismo de marca: comunicación de riesgo frente a la incertidumbre | Nobbot
92. U.S. newsrooms are 'largely unprepared' to address misinformation online | Poynter
93. How news media brands in LatAm are finding new revenue streams | Innovation
94. The 10 new paradigms of communication in the digital age | José Luis Orihuela
95. How Russian trolls got into your Facebook feed | The Washington Post
96. How to cover local refugee communities: Strategies for newsrooms and reporters | American Press Institute
97. In a 30-minute interview, President Trump made 24 false or misleading claims | The Washington Post
98. What surprised me in journalism in 2017 — and what we can expect in 2018 (maybe) | Paul Bradshaw
99. Alba Mora: «AJ+ está donde está la audiencia» | Next Media
100. Un mensaje de nuestro nuevo director | The New York Times
Y unos cuantos bonus track…
Tras los primeros cien artículos añado con la colaboración de otros compañeros otros artículos que también valen el interés por su valor. Comparto las sugerencias que están llegando por vía directa o a través del hashtag #artículosperiodismo2017.
101. Radiografía de la televisión en España | Next Media
102. Details on Newly Uncovered GRU Online Personas | Bellingcat
103. Finlandia: del megatest de 5G a la carne vegetal pasando por "my data" y la inteligencia artificial | José Cretazz
104. "Trump es explosivo pero entiende el tiempo en el que vive" | Nobbot
105. Así será el futuro de las redacciones, según Reuters | Dircomfidencial
106. El papel decisivo del periodismo en las sociedades abiertas | Daniel Mazzone
107. TV goes digital, digital goes TV | Nieman Lab
108. La 'Historia de Zainab' y los menores de Siria | Comunitat & Xarxa
109. 9 Boxes | BuzzFeed
110. Fake news, la nueva propaganda | Carne Cruda
111. Mapping media accountability instruments in sports journalism | El Profesional de la Información
112. Probabilidad de pagar por noticias digitales en España | El Profesional de la Información
113. Visualización de datos: una imagen puede valer más que mil números, pero no siempre más que mil palabras | El Profesional de la Información
114. Artículos de curación de contenidos. Categorías y ejemplos | Anuario ThinkEPI
115. La profesión periodística, por David Jiménez | Jose A. González Alba